Are you looking for a complete mobile paperless solution? By now you may have learned that there are two critically important components to a complete mobile paperless solution.
Going mobile with your field technicians is only the first component. The second an equally important mobile paperless component is the ability of the office to manage all of the daily field generated open items. Ask any service manager how many open items are generated in just one day by the field technicians.  These are the items that your technicians typically write on the back of the paper work orders including: the need to order more parts, prepare a special quote, record a new service agreement,  record special customer recommendations and open questions, uncompleted items  prior to billing, special notes about handling future PM's, etc., etc.
You need a real mobile solution that is truly a paperless solution for both the field and the office. The FieldDesk Field Service Mobile Software  and FieldOPS are exclusive in the industry with this type of complete paperless solution for your field and office operations.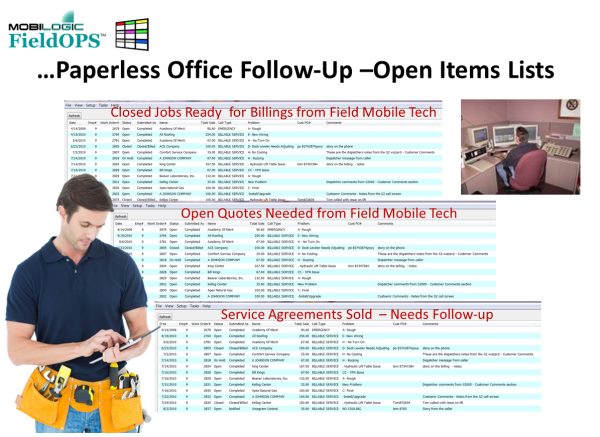 Mobilogic's exclusive paperless "field and office mobile solution allows you to stay in control of all your open work order items without generating endless piles of paper. Learn more about this state-of-the-art complete mobile paperless solution which will increase your field and office productivity and effeciency.
Work Order Electronic Open Item Ques help to streamline your field follow up process without paper:
When a technician completes a job using the FieldDesk Mobile in the field, each of his responses to the Completion Checklist Questions automatically flow back to the office into an electronic paperless Follow-up Work Que Folder(s).  Using your FieldOPS Software your office staff will be able to manage and record action taken for all of the open items including the technicians recommendations. Items in the Que Folder may have comments added, moved or copied into another Que folder for further follow-up. Examples of open items from a work order may include: Billings Status; Cash in Transit; Physical Truck Counts; Declined Quoted Items; Outstanding Quotes Needed, Parts Needed, etc.
Simply right click on any work order to review or manage any open items. With a click of a button notes may be added, a purchase order created, the work order can be transferred to another office staff member open items que for additional action, etc.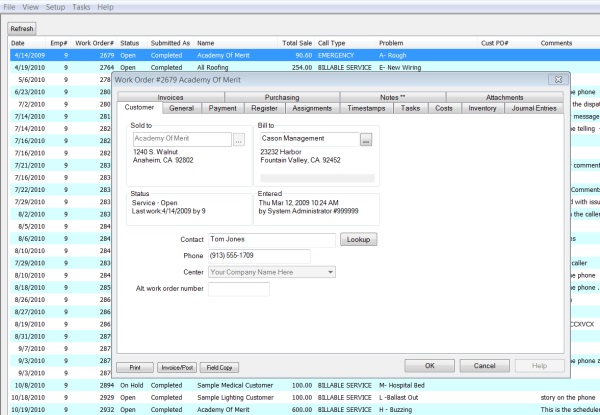 To learn how FieldDesk Field Service Dispatching Scheduling Mobile Software can help your company to be more productive, efficient and streamline your entire operation, contact us today for your Free Software Review